What does a Drone Look Like Anyway? How is it different from manned planes?
Aeryon Scout Drone UAV in flight. Looks innocent enough, but its got a big eye to spy!
I think I prefer completely innocent drones like this one!
Preditor Drone - This one is releasing a hell-fire missle
Reaper Drone - An MQ-9 Reaper, a hunter-killer surveillance UAV.
Oops! Where did this drone bee come from? Ah well, kind of cute but he sure can deliver a sting.
I think the aggressive drones above look awesome, but I bet they can deliver several deadly stings!
This RQ-7 Shadow Drone is capable of delivering a 20 lb (9.1 kg) "Quick-MEDS" canister to front-line troops.
Ah! Similar to the helper bee! And similar to the one below...
The Aerovision Fulmar drone is a privately developed unmanned aerial vehicle system, its main application being to aid
fishermen finding tuna banks, due to its ability to perform sea-landing.
IAI Heron, an Unmanned Aerial Vehicle developed by the Malat (UAV) division of Israel Aerospace Industries.
Heron navigates using an internal GPS receiver, and either a pre-programmed flight profile (in which case the system is fully
autonomous from takeoff to landing), manual override from a ground control station, or a combination of both. It can autonomously
return to base and land in case of lost communication with the ground station. The system has fully automatic launch and recovery
(ALR) and all-weather capabilities.
Heron can carry an array of sensors, including infra-red and visible-light surveillance, intelligence systems (COMINT and ELINT)
and various radar systems, totaling up to 250 kg (550 lb). Heron is also capable of target acquisition and artillery adjustment.
The payload sensors communicate with the ground control station in real-time, using either direct line of sight data link, or via an airborne/satellite relay. Like the navigation system, the payload can also be used in either a fully pre-programmed autonomous mode, or manual real-time remote operation, or a combination of both.
Israel sure is on the leading edge of unmanned vehicles in the air!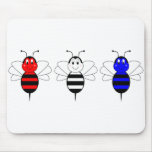 I have a feeling America is keeping up with that edge as well!
A Bell Eagle Eye, offered to the US Coast Guard.
I guess this one is the bumblebee version!
This is just a small sample of what is out there flying around. Great to know what kind your looking
at when you look up in the sky and see one... hope all your sightings are of the helper bee variety!
Sources: Wikipedia, Yahoo images, & a wee bit of creativity from
worker!